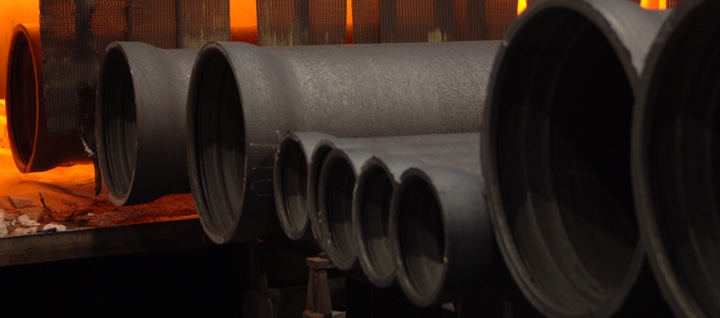 Products
Canada Pipe Company ULC, with head offices in Hamilton, Ontario, is a Canadian subsidiary of McWane Inc. The McWane manufacturing facilities supply ductile iron pipe products to Canada Pipe for sale throughout Canada.
There are hundreds of water departments in Canada and the United States who continue to select ductile iron pipe as the water main material of choice. The performance of iron water main, over the last two centuries, has continued to exceed expectations. Today, many municipalities have recognized the additional benefits of ductile iron pipe. By adopting polyethylene encasement as a standard protection method for ductile iron pipe, where necessary, water departments are increasing life expectancy of pipe, even in the most undesirable soil conditions.
Internal pressures, surge and cyclic loads, thrust restraint, earth, prism and beam loads, service taps, construction handling, re-excavation, etc., all demand a strong pipe. When it comes to describing ductile iron pipe as the water main of choice to address these factors, "tough" is an understatement.
Our products are integral to the development and function of both plumbing and clean water works systems throughout the world. The people at Canada Pipe are dedicated to the production of the finest quality ductile iron pipe products on the market today.
Ductile Iron Pipe Joint Types
Product and Customer Resources